There's a lot of news each day. Illini Inquirer will try to make it easier to digest each weekday morning with the Daily Digest.
*****
Illinois basketball on Wednesday announced the numbers of eight newcomers to the program.
Skyy Clark: No. 55

The freshman guard, a top-40 prospect, is just the second Illinois player to ever wear No. 55, joining Shaun Pruitt (2005-09). Clark is the first guard to wear a number in the 50s in more than 50 years.

Dain Dainja: No. 42

Dainja is wearing the same number he wore at Baylor. He is the first Illini to wear the number since Tyler Griffey (2010-13). Other Illini to wear the number include Brian Randle (2004-08) and Mark Smith (1978-81).

Jayden Epps: No. 3

The freshman guard, a top-50 prospect according to 247Sports, takes the number worn the last two seasons by Jacob Grandison. Other notable Illini to wear the number are former All-Big Ten guard Brandon Paul (2010-13) and Chester Frazier (2006-09), now a second-year Illini assistant coach who recruited Epps.

Sencire Harris: No. 1

The four-star freshman takes over the number worn the last five seasons by All-Big Ten guard Trent Frazier. The number has had an occupant since 2007 with Trent Meacham (2007-09), DJ Richardson (2010-13) and Jaylon Tate (2014-17) also wearing the number.

Matthew Mayer: No. 24

The Baylor transfer will wear the same number he wore in Waco. The last two occupants of the number also were transfers: Mark Alstork (2018) and Rayvonte Rice (2014-15). The number has had some impactful occupants, including Mike Davis (2008-11), Sean Harrington (2000-03), Richard Keene (1993-96) and Efrem Winters (1983-86).

Ty Rodgers: No. 20

The freshman wing, a top-50 prospect, takes over the number vacated by another tough, versatile player: Da'Monte Williams (2018-22). The only other Illini to wear the number since 1995 was Myke Henry.

Terrance Shannon: No. 0

The Texas Tech transfer is the sixth player to take the number during the last decade. The first two occupants of the number were transfers (Sam Maniscalco, 2012; Sam McLaurin, 2013) and three players who eventually transferred out (DJ Williams, 2016-17; Alan Griffin, 2019-20; Brandin Podziemski, 2022).

Paxton Warden: No. 22

The freshman walk-on takes over the number from Austin Hutcherson. Previous Illini to wear the number include Maverick Morgan (2014-17), Jereme Richmond (2011), Lucas Johnson (1999-2002), Kiwane Garris (1994-97), Doug Altenberger (1983-87), Perry Range (1979- 82) and Johnny 'Red' Kerr (1952-54).
*****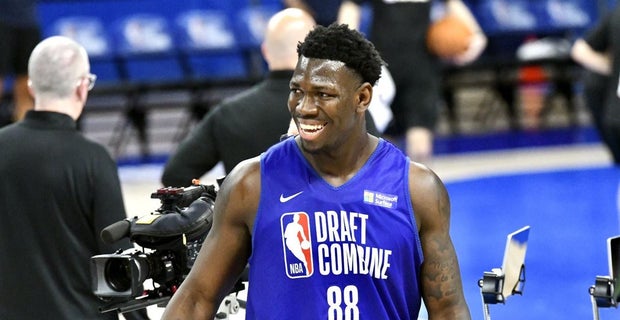 Two-time All-American center Kofi Cockburn won't wait much longer to learn his first step as a professional basketball player. The NBA Draft starts at 7 pm CT tonight at Barclays Center in Brooklyn (NY). Cockburn, an Illinois junior, is not projected by most experts to be drafted in the two-round, 58-pick draft.
If he is not selected, Cockburn – a consensus First Team All-American last season who averaged 20.9 points and 10.6 rebounds – is likely to be a priority undrafted free agent and potentially a candidate for a two-way NBA contract, which pays half the rookie minimum (roughly $ 502,000).

Despite his dominance at the college level, many evaluators doubt the 7-foot, 285-pound center's fit in the modern, more spread-out NBA game.
What's at stake: Illinois is hoping to have players drafted in back-to-back years for the first time since 2005 (Deron Williams and Luther Head) and 2006 (James Augustine and Dee Brown).
Cockburn in NBA Draft rankings
ESPN: No. 65

CBS Sports: No. 70

The Athletic: No. 73

NBADraft.net: No. 87

Sports Illustrated: No. 91
The Athletic's Sam Vecenie's summary on Cockburn (get his NBA Draft Guide): "Cockburn is so big, strong and athletic that it wouldn't surprise me to see him stick as a backup center. He has tools that very few NBA centers do. He's going to be limited to specific schemes, though, because of the lack of change-of-direction skills. He drastically, desperately needs to improve his security with the ball, even more than trying to develop a jumper or improving as a foul shooter. He got better there as a junior, but he's not NBA-ready. I'd rather take a flier on wings than get a backup center, given where the league is going. He could be a scheme-specific two-way player – depending on if a team thinks they can really work with his drop coverage angles in ball screens, his footwork – and could continue to work on improving his frame. "
Illinois coach Brad Underwood said last week of Cockburn: "I'm excited for him. I'm hopeful. He's been very solid in his workouts. He's done what he has needed to do in terms of positioning himself to be drafted. Kofi is not for everybody. The style of play some teams play, they don't want that. They don't want a big guy, but there are some who do. We'll see how it goes in a week. I'm praying for him. I'm excited for him. Obviously, the legacy he left here is second to none. We'll be pulling for him in future endeavors. "
*****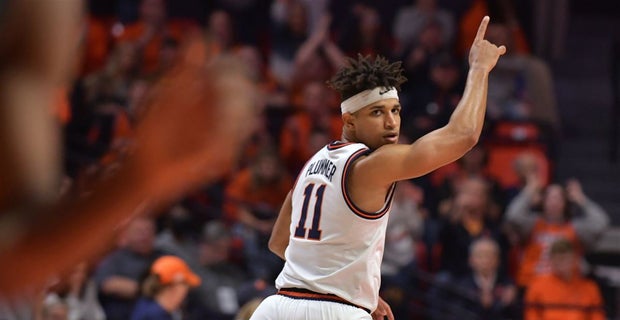 ESPN's top NBA Draft expert, Jonathan Givoney, tweeted about Illinois guard Alfonso Plummer yesterday. The Third Team All-Big Ten guard averaged 14.6 points and shot 40.8% from three last season with Illinois after transferring from Utah.
Plummer is short at 6-foot and has defensive concerns, but he was one of the best 3-point shooters in the country.
Givony tweeted: "Expecting a flurry of activity as soon as the draft ends as teams position themselves for summer league, two-ways, ex-10s, etc. Curious to see where Illinois' Alfonso Plummer, one of the best shooters in college basketball, lands. Has some Patty Mills/Bryn Forbes to his game. "
Plummer said during an interview with the Indiana Pacers public relations team after a pre-draft workout: "I feel like I really impact the game. My shooting ability also creates a lot of space for other guys… because I grab a lot of attention just moving around the court because players can't leave me open. So I feel like that for sure is going to help a lot of teams during the process. "
What's next: Plummer is unlikely to get drafted, but he could earn a spot on a summer league roster, which could create professional opportunities in the NBA, G League or other professional leagues. Plummer was taken with the fourth pick of the draft for the Baloncesto Superior Nacional, a league in his native Puerto Rico, so he has that option as well.
*****


Four-star Class of 2023 guard Cori Allen took an unofficial visit to Illinois women's basketballl, she posted on Instagram on Wednesday. The 5-foot-10 Nashville (Tenn.) Native plays at Montverde Academy and is the No. 93 overall prospect in the Class of 2023, according to ESPN Hoop Gurlz's rankings.
ESPN's scouting report: "Athletic guard handles and attacks in transition game; drives, finishes plays through contact; drives and delivers in traffic; mid-range game creator, elevates over defenders in the key; 3-point game threat. "
Illini connection: Allen posted a picture from her unofficial visit alongside Skyy Clarkwho also is a Nashville native and played at Montverde Academy.
*****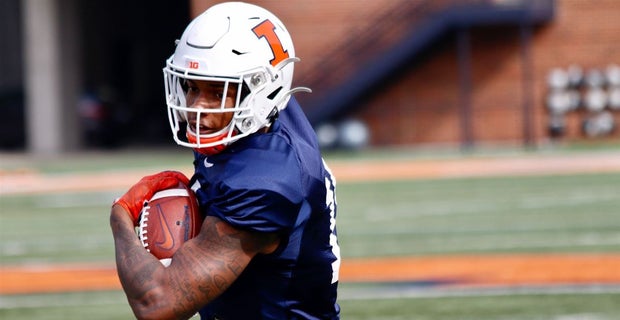 Former Illinois wide receiver Dalevon Campbell on Wednesday announced he will transfer to Nevada. The 6-foot-4, 215-pound redshirt sophomore played in 23 games over three seasons with Illinois and totaled six receptions for 98 yards.
Background: Campbell was a late addition to the Illinois Class of 2019 out of Missouri City (Texas) Fort Bend Marshall. As a senior in high school, he caught 21 receptions for 545 yards and seven touchdowns and also won the Texas 5A 4×200 meter relay state title.
Illini transfer departure destinations
*****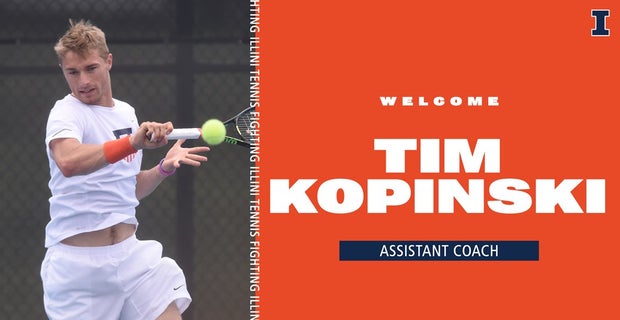 Illinois men's tennis coach Brad Dancer announced the hiring of former Illini Tim Kopinski as assistant coach Wednesday. Kopinski returns to his alma mater after a 2021-22 season in the same role with Charlotte Athletics. Kopinski fills the spot left by Harry Jadun who left the program to take the head coaching position at Michigan State.
Dancer said in a statement: "First I want to congratulate Harry (Jadun) on his new post and recognize in a short time the effort he put toward our program. We are excited for Harry. When it comes to Tim (Kopinski), this is a person that we tell stories about all the time in our program. Tim's vision, Tim's toughness, his relentlessness and pursuit of goals are intertwined in our successes over the past decade. TK bleeds Orange and Blue, he will be a tireless recruiter and will connect with our student-athletes. He will engage our community and make a difference in the lives of people here throughout the state of Illinois. We are so excited to welcome him home. "
Kopinski said in a statement: "I cannot thank Brad and Josh enough for the opportunity. Returning to Champaign and coaching the Illini is one of the biggest honors I can imagine. There is an intensity and passion about the community that makes this one of the most special programs in the nation Brad (Dancer) and Marcos (Asse) have done such an incredible job over the years. I'm looking forward to building upon the rich history of the program and helping our current and future student athletes pursue excellence across the board. "
*****
*****
Have a great Thursday! Let's get weird tonight, NBA …