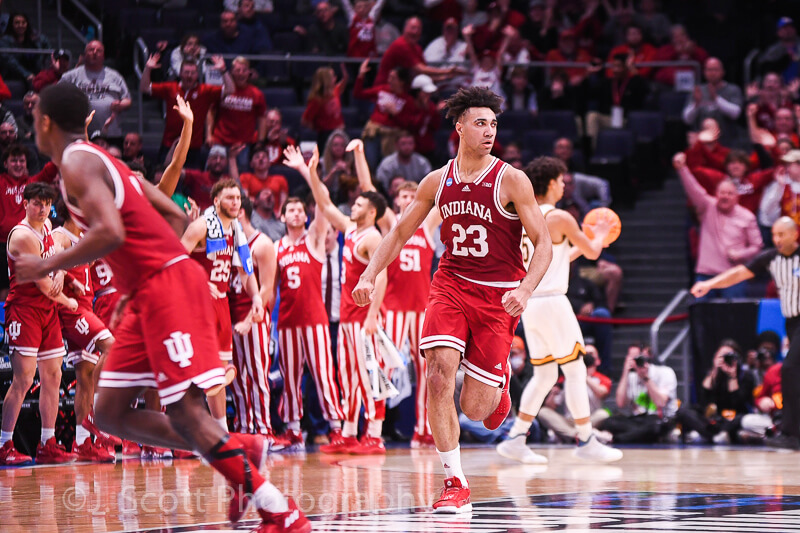 6-Banner Sunday is Inside the Hall's weekly newsletter in partnership with The Assembly Call. More than 9,000 Indiana fans receive the newsletter each week. In addition to appearing each week on the site, you can also opt to receive 6-Banner Sunday by email. A form to subscribe via email is available at the bottom of this week's 6-Banner Sunday.
Welcome to another edition of 6-Banner Sunday, a joint production between The Assembly Call and Inside the Hall where we highlight the five most essential IU basketball stories of the past week, plus take a look at how the other IU sports programs are doing.
While last week started a quiet offseason, the previous few days were the opposite of that with multiple major news stories. First off, on Saturday, IU star Trayce Jackson-Davis announced he is exploring his NBA options. Earlier in the week also saw several headlines for the team as Xavier Johnson was arrested, Thad Matta is leaving the program, and NIL deals were announced for multiple Hoosier athletes.
Also, Inside The Hall started a player review series with the season concluded. As usual, we will conclude with a look at how other sports are doing at IU which was highlighted by the women's basketball team snagging the highest recruit in program history from the transfer portal.
You can view this week's Assembly Call radio here.
• Trayce Jackson-Davis declares for NBA draft but leaves open return to IU
• Xavier Johnson arrested and charged with reckless driving
• Thad Matta leaves to coach Butler
• Multiple Hoosier players sign NIL deals
• Inside The Hall player wrap-up series
• Hoosier Roundup – Sydney Parrish commits to IU women's basketball
Banner # 1 – Trayce Jackson-Davis declares for NBA draft but leaves open return to IU
As was widely expected, IU star Trayce Jackson-Davis has opted to test the waters of the NBA per a post on his Instagram Saturday.
His stock has been all over the place with mock drafts as some have him going late in the first round, while others have him not being taken until well into the second round if at all. By declaring though it enables Jackson-Davis to work out for teams and receive feedback on where his game is at. Whether he will be invited to the NBA Combine in May or not is unknown and might be telling where he is seen as a player at the next level.
No matter what the Hoosiers will have to wait a while to find out if their best player will be back in Bloomington next season as prospective athletes have until June 1 to decide if they want to stay in school or move on to a professional career.
Banner # 2 – Xavier Johnson arrested and charged with reckless driving
Xavier Johnson was expected to be IU's top returning point guard next year and team with incoming freshman Jalen Hood-Schifino to form a dynamic duo in the backcourt. However, that is somewhat in doubt after Johnson was caught by police going 90 mph on north Walnut Street in Bloomington the Saturday night before last.
Johnson was not intoxicated at the time of the incident but was charged with a Class C misdemeanor for reckless driving and a Class 6 felony for resisting law enforcement. Johnson tried to switch seats and claim his friend Lee Mariotti was the driver of the vehicle instead of himself. Johnson was arrested and posted bail.
So far the team has had little comment on the matter other than to say it was gathering facts and would take action as warranted as it monitored the legal process. It should be noted Johnson was one of the five players suspended at Northwestern during the season for violating curfew.
Banner # 3 – Thad Matta leaves to coach Butler
When IU coach Mike Woodson was hired last year many Hoosier fans were comforted by the fact that Thad Matta was made the Associate Athletic Director For Basketball Administration. Matta was a legendary coach for many years and was brought in to help Woodson adjust from the NBA game to college basketball.
However, Woodson is now up to speed on the NCAA and Matta is moving 50 miles north to become the next head coach at Butler. Matta was successful at Ohio State for many years but resigned after health issues surfaced in 2017. He also thrived at Xavier and for a year with the Bulldogs previously.
Banner # 4 – Multiple Hoosier players sign NIL deals
With profiting off name, image, and likeness now legal for NCAA athletes, IU players including Trayce Jackson-Davis and Race Thompson are taking advantage of it. Hoosiers For Good was created to help Indiana athletes find endorsement deals through various charitable causes. It should be noted that these deals have no bearing on whether players return to school in future seasons.
However, this organization helped 14 IU athletes ink 470,000 dollars total through different sponsorships while helping out in the community. Besides Jackson Davis and Thompson, some of the more recognizable names among these players are women's basketball stars Grace Berger and Mackenzie Holmes as well as football players DJ Matthews, Tiawan Mullen, Shaun Shivers, and Jack Tuttle.
Banner # 5 – Inside The Hall player wrap-up series
With the season now over, Inside The Hall began an offseason series recapping the player's performances this year.
This week began with Logan Duncomb, Tamar Bates, Anthony Leal, Trey Galloway, and Jordan Geronimo.
Banner # 6 – Hoosier Roundup – Sydney Parrish commits to IU women's basketball
With the departments of longtime stalwarts Nicole Cardano-Hilary, Aleksa Gulbe, and Ali Patberg the women's basketball team needs some reinforcements. They will return their two best players for next season with Berger and Holmes but need additional help to make up for the outgoing players. A big step was taken towards that Saturday morning when 2020 Indiana Miss Basketball and Oregon transfer Sydney Parrish committed to the Hoosiers for next season.
Parrish becomes the fifth five-star player in program history (all have occurred in the last seven years) and passes Patberg as the highest-ranked player to ever wear Cream and Crimson coming in eighth in her recruiting class per ESPN. Parrish started every game for the Ducks last season and averaged 8.5 points while shooting over 35% on three-pointers. She has three more years of eligibility remaining with COVID allowing athletes a fifth season now.
In other IU news:
• Football got a late addition from a famous family, as the head of WWE Vince McMahon's grandson Declan committed to the Hoosiers as a preferred walk-on.
• Legendary IU track coach Ron Helmer is retiring after the season.
• Men's Soccer picked up a big-time transfer from Xavier on defense.
• Softball fell to Wisconsin before beating Rutgers twice to improve to a solid 21-10 on the year
• Baseball continues to have major pitching issues as they have all season, falling to Northwestern, Evansville, and Purdue this week behind poor performances on the mound.
• Water Polo picked up two victories Saturday.
• Women's Tennis fell to Penn State.
• Men's Tennis lost to Penn State and Michigan State.
• Both Men's and Women's Golf currently sit in seventh place at their events.
• Track and Field competed at two different events.
• Rowing competed in Columbus.
• Men's Swimming and Diving had one of their star athletes announce he is foregoing the final year of his eligibility and turning pro. Another Swimmer for IU broke the German Record.
Thanks for your continued support for The Assembly Call and Inside the Hall. We'll be back next weekend with a new roundup.
Now go enjoy yourself a 6-banner Sunday.
Aaron (Ari) Shifron
Assembly Call Contributor
Filed to: